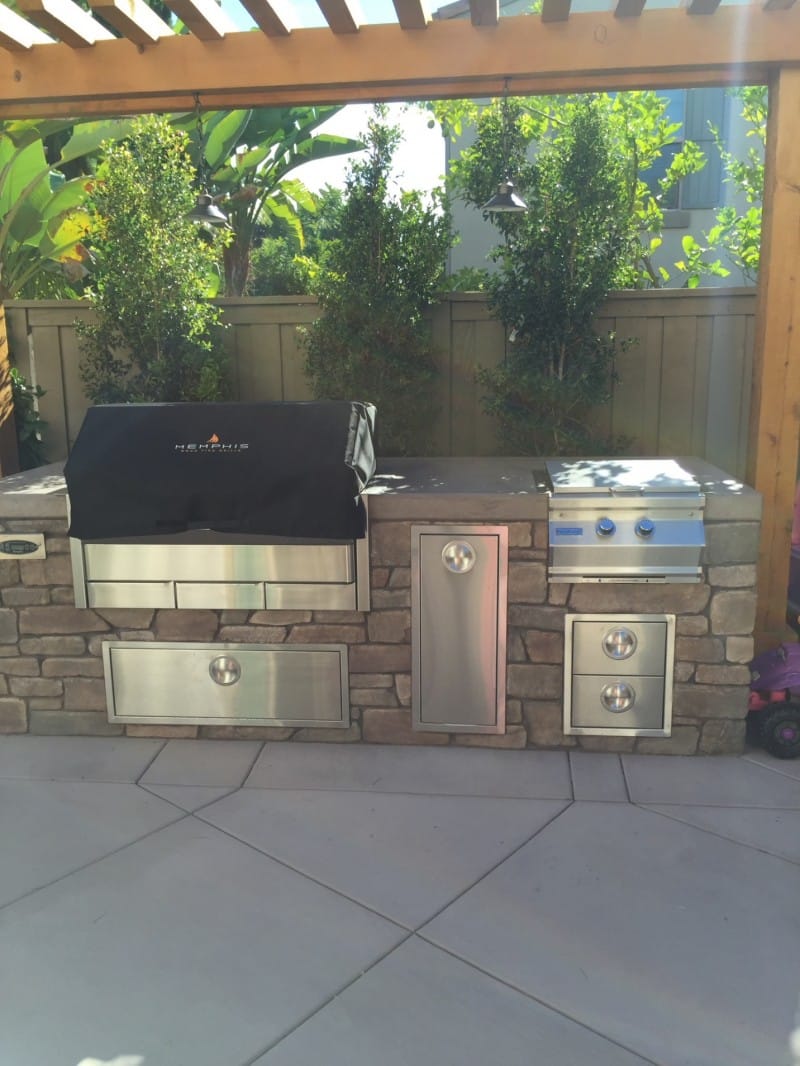 OUTDOOR KITCHENS & BARBEQUE GRILL AREAS
There are so many options to think about when you are deciding on the type of outdoor kitchen space you will need and use on your property. We can help you design the perfect space to suit your needs and budget.
There are many shapes and sizes for the kitchen island space.
You can chose to custom build with stucco, stone or tile. There are pre-fab kitchen islands we can assist you in selection.
Standard counter size is usually 40"-43" tall and can be 1 level or have a shelf or countertop for your guests to sit at on barstools. Countertops can be made of concrete, marble or slate slab, tile tops, and even wood. We can create any shape to fit to maximize the space so you can get all of appliances you desire.
A Barbeque grill, pizza oven, refrigerator, kegerator, and sink are just a few of the amazing items you can include in the design. Stainless steel drawers and storage space to custom wood.
An array of options based on your budget.
A usable work space to cook and a counter area for your guests to visit with you as you grill up a lovely meal.
Every Outdoor Kitchen is Custom Built
Your new outdoor kitchen can be as big or as small as you want it. We build every built-in grill to fit each client's needs and taste. Some clients want a larger outdoor kitchen to expand their living space with a patio while others want a more modest build to compliment their pool. Every decision is yours and yours alone. We will do whatever it takes to build the kitchen you will love and use for years to come. We will provide you with expert recommendations for grills, equipment and electrical for your project.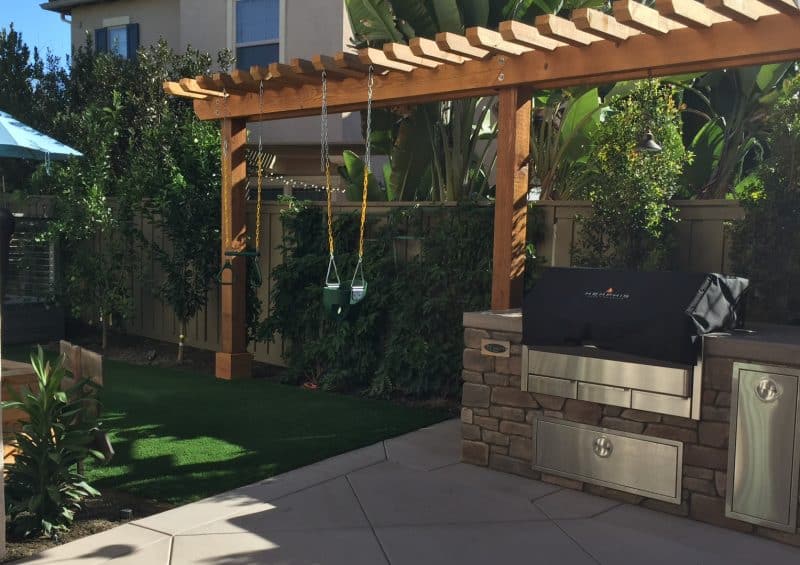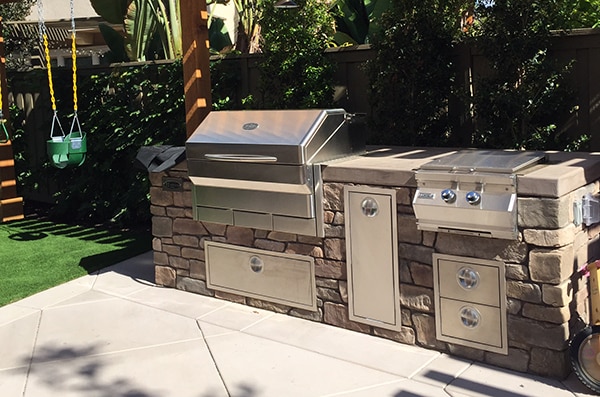 Top Benefits of Adding an Outdoor Kitchen
The most obvious benefit is built-in grills are great for entertaining. Everyone gravitates toward the grill anyway so why not just go ahead and make it the center of the party by building something your friends and family will love.
Want to expand your kitchen but don't have space inside? Well, put it outside. Outdoor kitchens aren't just for hosting parties. You can use it as much as you like, and with our great weather, that could be very often.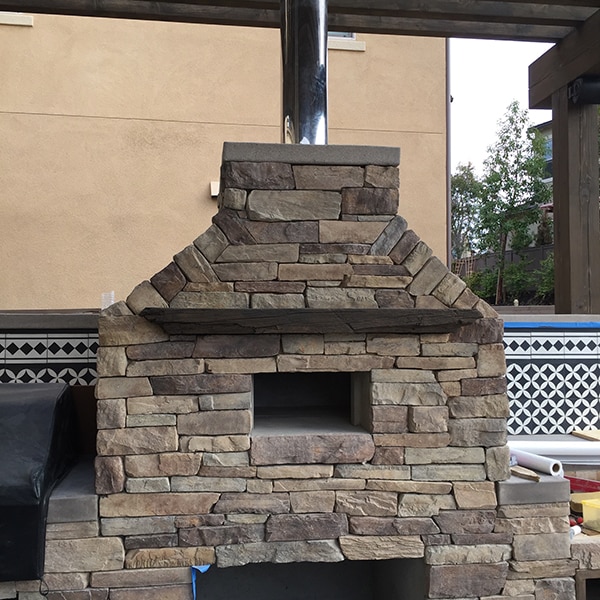 An Outdoor Kitchen is a transformative addition to your home. It is something that will change the way you think about your backyard completely.
More and More, outdoor kitchens are becoming popular in San Diego. People have grown bored with the traditional cookout experience and want to upgrade. There's no bigger way to upgrade your outdoor grilling experience than building an entire kitchen outside. But just as is true of indoor kitchens, outdoor kitchens and built-in grills can be elegant, practical and envy-inspiring.
A new outdoor kitchen will not only be the center of attention at your parties, but it can also be used daily for small intimate meals with just immediate family. Picture the family enjoying a meal together outdoors in complete comfort.
Thanks to the increase of popularity of outdoor kitchens, there are so many more options to choose from now. There are lines of products devoted entirely to outdoor kitchens. From the small and practical to the large and extravagant, there's an option for every homeowner that wants an outdoor kitchen in their home. For those looking to go next level with their outdoor kitchen addition, luxury items like kitchen islands, built-in refrigerators and deep sinks add comfort and ease of use.
The advantages of adding an outdoor kitchen are huge to your enjoyment of your extended living space. You get to spend quality time with friends and family outdoors not worrying about going inside to check on the oven. An outdoor kitchen is the perfect setting for long, warm summer days and can be used as often as you like.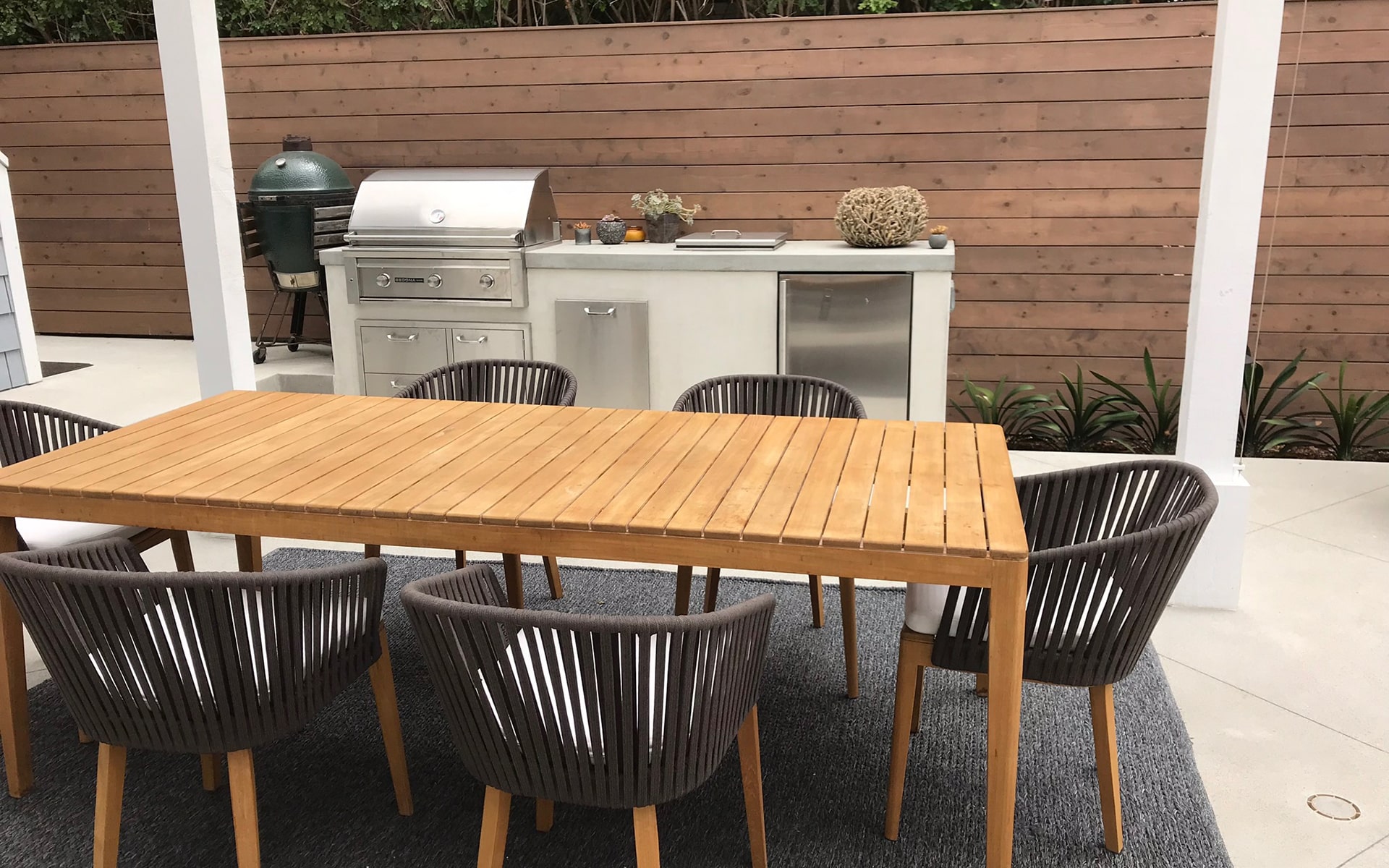 We want to build the outdoor kitchen that is perfect for you that completely fits your family's needs and desires. We can build everything from the most modest built-in grill to the luxurious largest outdoor kitchen. Let's get started together so contact us today to get more details on the next steps.